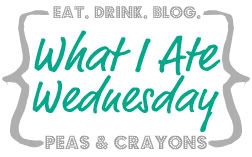 Good morning friends! Happy Wednesday! Thank you all so much for your thoughts on
taking rest days
. I am so glad I am not the only one who suffers from the occasional guilt trip. Let's not be so hard on ourselves anymore okay?
Anyway, back to What I Ate Wed Tuesday. Wowza, it was hard getting up yesterday morning after being in vacation mode for a week and a half. The sad part is I don't even sleep past 7:30 anyway, but still those forty minutes really make a difference.
Breakfast started off with the usual peanut butter oats and hard boiled eggs. Maybe one day I will get sick of this combo? Who am I kidding? Probably not.
Meal number two was a protein shake. Am I the only one who uses egg whites in their shakes? I am all about getting protein from food rather than only from protein powder. Not only does the peanut butter cover up their taste, but it makes me feel all badass. Cue the Rocky theme song.
Lunch ended up being a wrap with my favorite turkey (from TJ's), spinach leaves, and delicious hummus. SO simple and SO good.
Plus I had an apple while I was waiting at the car place to get a leak in my tire fixed. After waiting an hour turns out there was no leak, even though my tire looked super low. They must have thought I was a giant boob, but such a waste of time! At least I know my tires are good to go.
Thanks to my massive food prepping on Sunday, dinner was waiting for me when I got home.
I reheated up fresh salmon, added some brown rice, heated up a sweet potato, and some greens and dinner was done! Lemon and spice is all I need on fish, so tasty without drowning it in sauce!
Meal number five was a bowl of chicken salad. I'm telling ya, eating meat at 9pm is a hard thing to do. I am seriously missing my greek yogurt. My trainer thinks all the lactose and sugar in it is affecting my blood sugar overnight and causing me to feel shaky in the morning for my workouts. But still, this definitely takes some getting used to as my new dessert.

Questions- Do you ever put egg whites in your shakes?

Does it totally gross you out? -At first it used to, but I'm so used to it now. I love it!