We're back to
What I Ate Wednesday
, err I mean, Tuesday in my case. Lots of goodies yesterday to share with ya'll.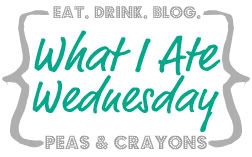 Of course breakfast started with overnight oats. I'm enjoying this breakfast again this morning as I am typing away since I'm heading out the door in a few minutes. Today's combo is nothing different and just as delicious as yesterday.
A protein shake to hold me over until lunch time. More peanut butter & oats, but with liquid egg whites. Enjoyed Rocky style haha ;)
Lunch was enjoyed at the beach since it was absolutely gorgeous day yesterday. Mid 80's with no humidity, it felt like a September day.