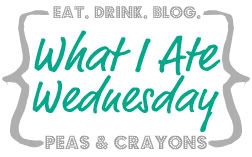 It's Wednesday already! Eeek, two more days until Colorado :)
With that trip coming up, so many of my nights have been filled with things to take care. So today's version will be What I Ate
Wed
Monday. Oh boy, do I have some goodies to show you guys!
Let's get right to it shall we?
Breakfast started off super early since I was in a rush to fit my workout in before 8:30. I can't get up any earlier than 6 to workout. How do you 5am workout people do it? As usual I went with my prepped overnight oats.
A nice handful of blueberries tasted so delicious on top.
Whew
. It is hard to come up with things to do for that long. We went for a beach trip. Anyway, I had prepped a chicken wrap, but didn't end up eating it. She literally would not leave me alone for five seconds and was giving me the stink eye (not to mention dog breath) when we arrived at the beach.
starving.
I wasn't in the mood for a full lunch by that point, so decided to have more of a "snacky" lunch. Some tuna on crackers satisfied me.
Melissa's blog
earlier in the day, I was dying for them! They just looked so delicious and fluffy. The original recipe is from
Julie
. The only thing I changed was to add some protein powder into the mix. I doubled everything and froze the leftovers.
wow
, you couldn't taste it at all. These pancakes are definitely going to be a regular dinner around here. Besides, what's not to like about healthy pancakes?
***Questions for you- Are you a pancake or a waffle person?
I love pancakes. Waffles I can easily pass up.
How do you get your pancakes to come out in a perfect circle?
Mine never do haha!