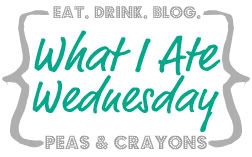 Woah, I can't believe it's already time for another round of What I Ate
Wednesday
Tuesday.
Sorry for leaving you all hanging yesterday. After getting home at 1am on Monday night and debating whether to get up for school by 6am, I decided to skip class. Sleeping in felt marvelous after traveling this past weekend. Between unpacking and catching up on some homework, life left me little time for blogging yesterday.
I am glad to be back, I miss chatting with you guys while I was away :)
Anyway, let's get to the main point : FOOD!
Since I came home and found the fridge in a very sad state, food shopping was on my agenda for last night. Anyone else try to eat up
everything
before going away? All that was left was pickles, limes, and tomatoes :(
Before I started unpacking, I was able to scrounge together some oatmeal with berries that were hiding in the freezer.
One good stand by when you have no food-eggs for dinner. I mixed some egg whites with frozen spinach and tomatoes. Oh my goodness, it was just what I needed.
awhile!
Be on the lookout for a Colorado recap tomorrow :)