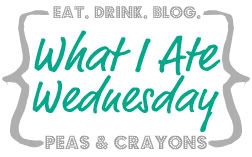 Hey Happy Wednesday! If you're new around here head over to
Jenn's blog
and join in on the What I Ate Wednesday Party.
And I did alot of eating yesterday. See for yourself.
Breakfast was a very peanut butter one yesterday! I had my usual overnight oats, but added
way
too much peanut butter to the mix. So every bite had a TON of peanut butter...I'm not complaining ;)
What is your favorite type of tea?
I'm a big fan of the orange zesty flavors. Or I'll take it plain with just lemon. When people add milk to their tea, it totally grosses me out!