Well it's Wednesday which I am super stoked about since Troy and I have some fun plans in the city for today! But I guess we should get to the point of this post since it is
What I Ate Wednesday
and everything :)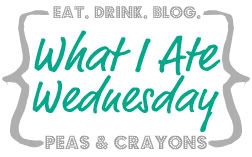 Coffee first please! That is what I was thinking yesterday morning when I woke up. Combine a long to-do list, doctor appointments, and cleaning, I need my coffee first!
I think I've finally got the magic secret down to making good tasting iced coffee at home.
peanut butter overnight oats
, I ate two hard boiled eggs for some extra protein.
***What's one meal you could eat every night?