Well it's a good thing I wasn't stressed about my non existent appetite the other day since it came back full force yesterday. My hunger was outaaaaa of control lemme tell ya.
Shall we take a look at
What I Ate Wednesday
?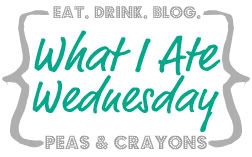 Breakfast was a total fail. Take a look at this huge mess.
instagrammed
it yesterday and apparently alot of you guys feel the same way when perfectly good oats get thrown out :(
That's what I get for trying hot oats instead of my usual cold ones. If it ain't broke don't fix it...
By noon I was more than ready for lunch. I melted mozzarella cheese and a packet of tuna in the microwave, then rolled it up in a brown rice wrap. It's a good thing I took this picture when I did because right after I started eating the wrap fell apart haha.
I guess messy was my theme yesterday?
Three hours later I knew I needed something to hold me over until dinner. One of my tye-dye yogurt bowls, but this time with granola for a little crunch, yum!