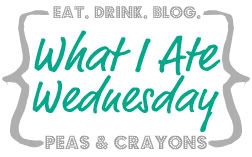 It's time for
What I Ate Wednesday
...and yesterday was alot of food!
Breakfast started off in the freezer yesterday. Yes you read that right, the freezer haha. I didn't prep my oatmeal cookie the night before. So when I make in the morning, I pop it in the freezer for 10 minutes to get it cold.
Cold and crunchy it was!
It was off to the gym after breakfast. Wowza was it crowded. I love training shoulders because they feel so strong after. But the gym was packed. I was on the rower hitting my rear delts and had 4 people working in between sets with me! By the the time I got home I was ready to refuel with a cold smoothie.
It was a hot one yesterday and beyond humid. So all I wanted for lunch was something cold, quick, and could be made in 5 minutes. A chicken wrap with lettuce and hummus hit the spot.
Since I ate lunch at Troy's house I brought along some snacks to enjoy in the afternoon also. Carrots and tomatoes were one....
Along with strawberries and blueberries. Yum!
My buddy sat there the entire time just waiting for a piece of food to fall. He LOVES carrots.
The boyfriend's mom made a huge BBQ spread for his family that was visiting last night. I wasn't about to whip out my camera to start snapping pics of my food. Awkward much?! Maybe one day! But I will share Monday night's dinner which was just as delicious. Fresh salmon, a baked red potato, and broccoli. I love when the salmon is on sale because otherwise it is just so expensive.
However I did manage to get a picture of the fabulous dessert I had last night. Troy's mom got it from my the best bakery in town, Torta Fina. Holy jeez this brownie is
huge
. This is just a little sliver of a piece of it that was gone in .5 seconds. So so rich and chocolatey.
Lots of goodies throughout the day. I was stuffed!
Have a good one xo.