We're back to
What I Ate Wednesday
, err I mean, Tuesday in my case. Lots of goodies yesterday to share with ya'll.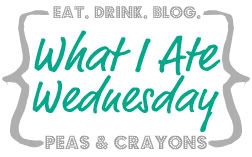 Of course breakfast started with overnight oats. I'm enjoying this breakfast again this morning as I am typing away since I'm heading out the door in a few minutes. Today's combo is nothing different and just as delicious as yesterday.
Surprisingly I didn't have my after dinner snack.
Shocked
right?! This is probably the first time in 6 months. My stomach just has been
off
lately so I wasn't hungry last night. Hoping it gets back to normal because I look forward to my daily dessert.
What is your favorite taco topping?
Mine is sour cream! I'm all about melting the cheese and sour cream together. So good!