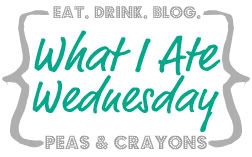 It's been awhile since I've shared a full day of eats and well, yesterday there was so much good food. Let's get right into it shall we? It is
What I Ate Wednesday
and everything.
Breakfast started off with a big bowl of oats. You're shocked right?! ;)
Lunch was breakfast style again. I've been loving the corn tortillas I bought last week and have been making little wraps everyday with them.
Yesterday was two eggs over easy with turkey bacon. I love when the eggs are super drippy, so good that way.
On the side an apple the size of my head!
Plus some unpictured snacks throughout the afternoon. I think a weight watches cheese spread on rice cakes.
I'm all about dinnertime. It's my favorite meal of the day. Yesterday my mom attempted to make eggplant parmasean. It was good, but for we realized she used tomato paste instead of tomato sauce. So the whole thing was rather bland, I still ate it though with some grilled chicken on the side for protein.
Another
Mannituck farm apple
, seriously I can't get enough of those things. They are so fresh and crisp!
And an orange greek yogurt for dessert. Stop & Shop's orange flavor is so much better than other brands. It actually tastes like orange and not just imitation flavor. Loved it!
Mmmm lots of good food yesterday.
What's your favorite type of apple?
Probably a gala apple since they are one of the sweetest ones.