One of my favorite things about cooler weather is baking. In the summer it is just way too hot to turn the oven on. Once fall is here I love filling the house with the smell of baked goods.
When I first was diagnosed with Celiac's I didn't attempt baking anything from scratch. Either it was from a package or a box, but we all know nothing beats homemade.
As the years went on I felt more comfortable venturing into baking quality tasting gluten free goodies. Last week's banana bread was no exception. It isn't dry or crumbly or falls apart like many baked gf goods.
I'll be linking up with the
What I Ate Wednesday
party to share the recipe.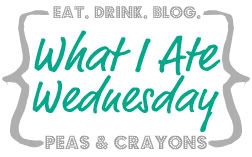 Gluten Free Banana Bread
2 cups gluten free flour (I used brown rice flour)

1 t baking soda

1/4 t salt

4 eggs

2 cups mashed bananas (about 4-5)

1/2 cup sugar

1/2 cup applesauce

1/3 cup oil

1 t vanilla
1. Preheat oven to 350 degrees.
2.
In one bowl mix flour, baking soda, and salt together.
3. In a separate bowl combine eggs, bananas, sugar, applesauce, oil, and vanilla. You can soften the bananas in the microwave to mash them.
4. Stir dry ingredients into the bowl with the bananas.
5. Spray a bread pan with non-stick baking spray. Bake for 45-55 minutes.
This recipe creates a very moist banana bread. So if you're someone who prefers a drier kind, I would leave out 1 or 2 bananas. You'll still get the flavor just with less moisture.
This loaf lasted only two days in my house! That's how you can tell it is good!
**What's your favorite type of homemade bread?
Mine is my mom's homemade chuck wagon bread. Hardly anyone ever know what it is. It's basically a raisin style cornbread. That will be my next gf baking adventure!