Jumping back on the
What I Ate Wednesday
bandwagon for this week. Let's take a look at the goods!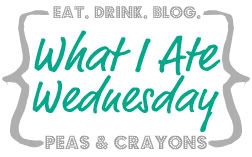 A big glass of water with lemon to flavor it to start the day. I love my lemon water. It's so refreshing a nice change up from boring, regular old water.
my freezer trick
to speed up the process.
almost
like eating pizza. I loved every bite!
Do you use artificial sweeteners?
I know some people are strongly for it while others are strongly against it.
Favorite pizza topping?
Pineapple baby!