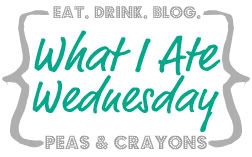 Wow I can't even believe it is Wednesday already. Halfway to the weeekend. Mondays off just make the work week fly by....
So much delicious food was eaten yesterday, which is perfect timing for
What I Ate Wednesday.
Let's get started...
Meal #1-
Breakfast started off with a batch of oatmeal. Shocked right? ;)
Meal #2-
I made a whole batch of hard boiled eggs on Sunday for the week. So I've been eating them up everyday. I swear I go through eggs so fast!
Meal #3-
Wraps are back in my life, yum! I loaded this one up with chicken, lettuce, tomatoes, and hummus. Then drizzled some balsamic dressing on the top for extra flavor.
Meal #4-
Last night's dinner was a mix up of the usuals. Instead of chicken, I had some lean ground turkey. Added some asparagus for my veggies.
new squash obsession
, well I just had to have some more of it with dinner.
Meal #5-
So instead of my usual meat at night for my last meal, I was out running errands and was starved. I was super hungry after working out. I was almost tempted to get
Ralph's
on my way home. I even went to the parking lot and debated whether or not to get it for 15 minutes. Kind of pathetic right haha? Ultimately, I realized I had so many treats over the weekend and don't need anymore.
I was still hungry when I decided to go home, so I snacked on this to satisfy my chocolate craving. These bars are good to keep around for a back up snack.
***Do you always go back to the same frozen yogurt/ice shops or do you try new ones?
Ralph's is my ultimate favorite so I always go back there because I know my favorite flavors. Certain fro-yo chains I don't like. I tried Pinkberry once and was not a fan! I'm picky with my desserts.