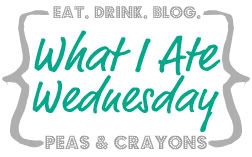 Round 15 for What I Ate Wed. I am on a roll. Technically What I Ate Tuesday, but same idea. Thanks for
Jenn
for hosting! I'm currently lusting over her sweet potato nacho recipe. Is it weird I love looking at food pictures online? Nah, it's totally normal, just makes me extra hungry ;)
Meal Number One:
Peanut butter oats eaten in bed while catching up on some much needed
homework
blog reading. Procrastination at its finest.
Meal Number Two:
Two hard boiled eggs for my snack and a protein shake. Got to get my protein in!
Meal Number Three:
Turkey wrap with lots of lettuce and hummus. Big shock right? ;) I eat this everyday hah. And it's not as massive as this picture makes it look!
Meal Number Four:
This was such a delicious dinner, I could have had seconds and thirds. By the time I got home from a spin class I was starved. I ate one of those feta spinach chicken sausages while I was heating the rest of the dinner up.
hungrrrrrrry.
Meal Number Five:
This is probably my least favorite meal since it's just plain meat. I feel like all I do is eat protein and more protein. Got to add that bulk! Just some lean ground turkey with lots of basil on it.
On a totally unrelated note,
I'm a little late on this, but did anyone watch the Teen Mom finale?!
I watched until 10:30 on Monday before I fell asleep. It's so funny what a difference a couple months makes. When I was working I wouldn't even get home until 10:30 after being out of the house since 7am. Now I can barely stay awake til then.
Anyway, I feel like Javi and Kaitlyn don't seem so happy. They keep talking about marriage due to benefits instead of love. Think it will last?
I love Chelsea's hair plus she's funny.
Janelle. Oh boy, she needs alot of help. I felt sorry for her. It must have been tough for her to watch this episode.
How cute was Leah's twins calling each other on the phone?!
I'm done rambling, have a great Wednesday!