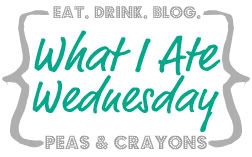 Time for What I Ate Wednesday, but really Tuesday in my case. Thanks to
Jenn
for all the lovely recipe ideas!
And let's jump right in!
Breakfast started off with the usual overnight oats in my hershey's bowl again. What can I say? I love oats :)
Along with a big glass of lemon water. Pretty much every morning starts this way since lemon water is so so good for you!
getting a weird one
in my carrot bags.
*Question-
What is your least favorite vegetable?
Beets are disgusting to me, bleh