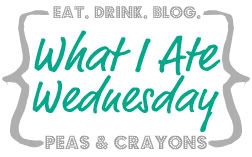 Happy
WIAW
!
I woke up thinking today was Friday and then was surprised it's Wednesday already. I honestly thought this week would be going suuuuuper slow for me since it's my last week of classes before finals. But it's moving right along! I'll take it.
Now let's get to the goods.
What I Ate All Day Tuesday:
Breakfast:
Started off with the usual oats.
Meal number 2:
Peanut butter & oat smoothie.
I'm on the search for a new blender. I've been currently using the bullet one, but it doesn't do the job for blending veggies. After seeing everyone use spinach in their shakes, I want to try it! Hoping to find a cheap one, under $30, that works well.
Lunch:
Lunches have been ALL about the eggs lately. I scrambled egg whites, spinach, and tomatoes for this tasty combo.
Dinner:
Dinner ended up being super simple, but super satisfying. I had some baked chicken I prepped on Sunday paired with broccoli and potatoes.
Meal number 5:
So I went with my usual extra lean ground turkey for my "dessert".
**Questions- When are you most hungry?
For me it's always at night!
What type of blender do you use?
I could use any recommendations please! I want to get a good quality one that will last.